Mark Pigato
Mark Pigato DJ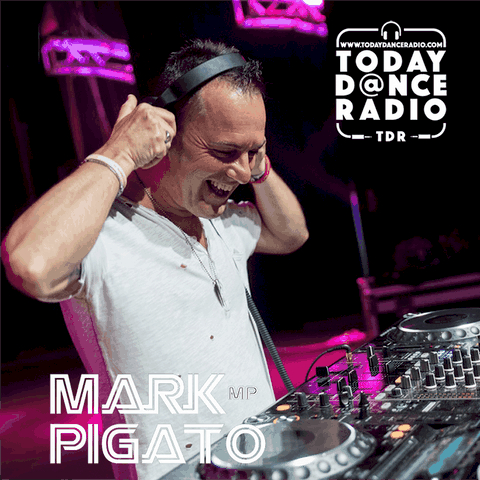 Mark Pigato, aka Marco Pigato, is an Italian disc jockey and record producer.
Mark Pigato was born artistically in 1990 at the age of 15 where he began to work in some nightclubs in Piedmont. In 1992 and for the following 3 years he participates in a regional DJ competition, Only For Dj, thanks to it the tour of the premises where he works as a Free Lance he increases and then begins to work in well-known discos, also landing in local and national radio and working as a supporter for world-famous DJs such Franco Moiraghi,
Roberto Corinaldesi, Joe T Vannelli, Stefano Fontana, Paolo Bardelli, Don Carlos and many others.
For 18 years he has been resident DJ at the Phenomenon Club in Novara where he opens the concerts of world-famous DJs including Steve Aoki, Joe T Vannelli, Claudio Coccoluto, Dj Antoine, Don Diablo, Fargetta, Molella, Dj Ross, Marco Mazzoli, Boy George, Giorgio Prezioso, Datura, Gabry Ponte, Gigi D'Ag, Mauro Miclini, Dj Tigerlily, Solomun ...
Since 2016 he has dedicated himself to House music productions and, thanks to Mone Music Records, climbs the peaks of world rankings such as Beatport and Trackitdown.The song Keep On, entered the Beatport Top 100 House, supported by Hardwell at the Unlocked Festival 01/06/2016.
The song Heartbeat, entered in the Beatport Top 100 House and Samba supported by Robbie Rivera and Kenn Colt and inserted by Radio 105 in the Future Selection. And also Along entered at number 10 of the Trackitdown Top 100.
On April 17, 2017, the single Better Control was released on the prestigious House label, King Street Sounds which, together with Strictly Rhythm, is the New York label in service for several years, therefore one of the major institutions of New York-style American house music. On March 24, 2017, Deep In My Soul was released on Mone, and in addition, Mark, together with Top Dj Chris River, was successful with Release Yourself, on Keep Records label, songs played on national radios. On Friday 9 June 2017 the single, Feel It, strictly House, was released, again with Chris River, on the Keep! Records label, licensed in Asia on ToCo International of Universal Music Group and entered on October 24, 2017 in their Compilation Dance together with artists such as David Guetta and Justin Bieber, Calvin Harris, Galantis ... On July 28, 2017 he released on the Mone Music Records label with the single House, Gregor Salto style, entitled Boomerang. On December 1, 2017, it was released on Mone Music Records with the single House entitled Sorry with the voice of the famous 90s singer Vivian B. He has curated, together with DJ Andrea Belli, the official remix of Claydee Feat, Jenn Morel entitled Licky. Mark Pigato currently curates the monthly mixed program My House Is Your House played on several web radios, in FM, DAB.
On April 27, 2018, the day of publication, it was possible to listen to her single House entitled A Beautiful Place.
The official Remix of her, made with Gianpiero XP, of the single by Robbie Rivera entitled I Wonder, has been released on D-Vision, which has been accepted as a Remix official together with that of Federico Scavo.
In June his new single for the summer of 2018 Pop/House genre was released on Mone Music Records, entitled Set Me Fre, supported by Alex Farolfi and Dj Shorty in their mixed radio programs of the night. It is still enjoying success on Spotify as it has reached several streams and joined 133 playlists.
Mark Pigato in the spring of 2018 made two Remixes for Ego together with Gianpiero XP, one remix for Boostedkids and the other for Salasnich in the Future House style. And again, the remix for Eros Pandi's Belove Record entitled Definitive and supported in the House environment, also with many streams on Spotify.
On November 30, 2018 the new single titled Oracle in Future House style was released, and became part of 147 playlists including that of Gianluca Vacchi. It is also very popular in the United States, Mexico, Brazil ...
Among the many musical achievements, he curated, together with Gianpiero XP, Dj Antoine's Official Remix of his single Loved Me Once, released on X-Energy on February 8, 2019, which became part of Gianluca Vacchi's playlist on Spotify.
Meanwhile, on April 10, 2019, the famous Media Records also agreed to print an X Mark Pigato track, entitled FLYING HIGH,
with the voice of the famous Vivian B, singer of the 90s of Da Blitz.
On March 22, 2019 he released the single You Against Me, also on the Mone Music Deluxe label.
On May 17, 2019, with Chris River, he publishes the single Fly Away, also with many streams on Spotify.
At the same time, on May 17, 2019, it comes out with the Official Remix of Confused, a song by Deeper.
Having become resident Dj of the Mirtillo Rosso Family Hotel, every year in August he plays with the well-known Dj Aladyn and, again every year, since 2018, he plays with Aladyn and Francesco Quarna at the DEEJAY AL PASCOLO event held above Alagna in the province of Vercelli.
In 2019 the release of his latest piece Tribal Latin House entitled LATINERO on Area 94 Records, the record label of the famous DJ Federico Scavo. Also in 2019 it comes out with the official Remix of Deeper Love, piece by the famous Lady Violet, with the new name M-Violet.
In 2020 he comes out on Enforce The Sound with the single Feel It In Your Soul.
Also in 2020 the single comes out with the collaboration of the singer Maki Flow, with Headache, supported by world DJ's such as Michael Calfan, Marshmello, Gianluca Vacchi, Lost Frequencies, Nicky Romero, Dimitri Vegas & Like Mike, R3hab ... this song also has many streams on Spotify. The single "I Want You" is from March 2021, supported by Bob Sinclar and in numerous Spotify playlists.
But you can be sure that Mark Pigato's musical productions do not end here, he will surely do many more.

The DJ and producer Mark Pigato, with his radio program "My House Is Your House" offers us the mix of Melodic House & Techno music. The third Sunday of the month at 10pm and the fourth Monday of the month at 4am (Hours in Italy).